Rafter-four Designs
Rugmaker's Homestead
the resource for traditional rug makers since 1984
swedishbr.html
Swedish Braid Rugs
by Diana Blake Gray
Master Rugmaker
A Swedish braid rug shown sitting on a Bohemian braid rug. While closely related, the techniques result in very different appearances.
The start of a Swedish braid rug. Note the work proceeds clockwise
Closeup of the front of a Swedish braid rug.
The Swedish braid is in the same family of stitches as the Bohemian braids. It is a lacing and looping technique, using two loops, but the Swedish braid creates a very different texture.

The front of a Swedish braid is a tight swirling pattern and the back almost appears as if knitted. Like the Bohemian braids, the Swedish is made with a hook and can be used with yarns as well as fabric strips.

The Swedish braid is quite rareóIíve only seen one example in forty years. That rug did have a solid oral history tying it to Swedish immigrants living in rural Missouri. It is one of the techniques that has likely died out for lack of written directions. The rugs shown on this page are ones that I have made.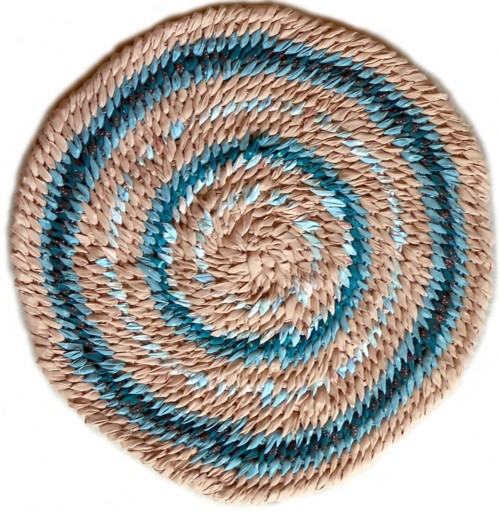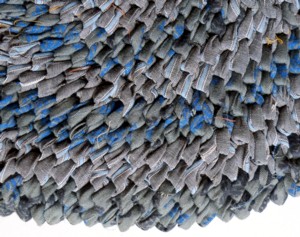 Closeup of the back side of a Swedish braid rug.
In our catalog:
Rugmaker's Handbook No. 6: The Lost Bohemian & Swedish Braids, Rugs, Baskets & Variations
On the etsy version of the Rugmakers Homestead: All of our current rug books plus Pre-folded cotton fabric strip, hot pad kits and PDF files of out of print books for instant download in a mobile-friendly environment. Just click on the Rugmakers Homestead link below or any of the photos shown.