The "Rugmaker's Handbook" Series
These are the reference books that so many of you have been asking for. Our master rugmaker, Diana Blake Gray created this series to cover as many of the types and variations of traditional rug making as possible. These books are not "craft books"--instead they are true old fashioned "handbooks" with a wealth of information for the textile explorer. International customers please your order through amazon.com to save a bundle on shipping.
FULL COLOR RUGMAKER'S HANDBOOKS
Rugmaker's Handbook No. 6: The Lost Bohemian & Swedish Braids Rugs, Baskets and Variations
by Master Rugmaker, Diana Blake Gray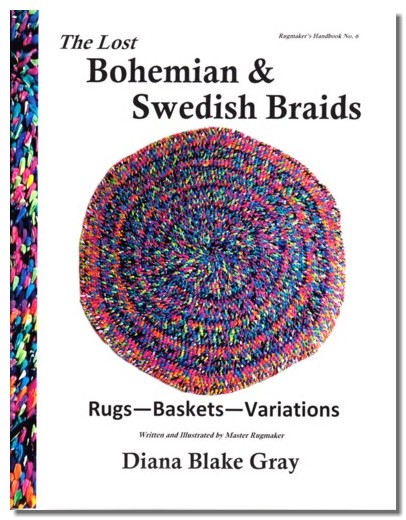 Bohemian and Swedish braids represent a whole new family of techniques for the textile explorer. Made with a hook, but not crocheted—looped and laced, but not nalbinding. Ideal for rugs, baskets and more.
Working from a single old rug she discovered in the 1970s, the author redeveloped these antique stitches. With this book, they come to life with simple step-by-step photographs for the beginning rug maker with both left- and right-handed directions. The Ancient Stitch, Traditional Bohemian Braid and Modern Bohemian Braid are included along with the never before published Swedish Braid and Fool-the-Eye braid.
These stitches create unique textures with very different appearances on the front and back. The rugs and baskets are so sturdy people think there is an artificial stiffener, but it is just the stitches themselves whether used with fabric strip, yarns or cording.
For the first time, the author explains how to create patterns and designs in the rugs for really eye-catching projects. No special tools are required—you can make your own hook from a clothes hanger. Preview the Table of Contents & Introduction
Rugmaker's Handbook No. 6, The Lost Bohemian & Swedish Braids, 8.5" X 11", 121 pages, color cover and over 250 color photos & illustrations....$24.95
Rugmaker's Handbook No. 5: Simple, Spectacular Braided-in Rugs
A lost folk art brought to life by Master Rugmaker, Diana Blake Gray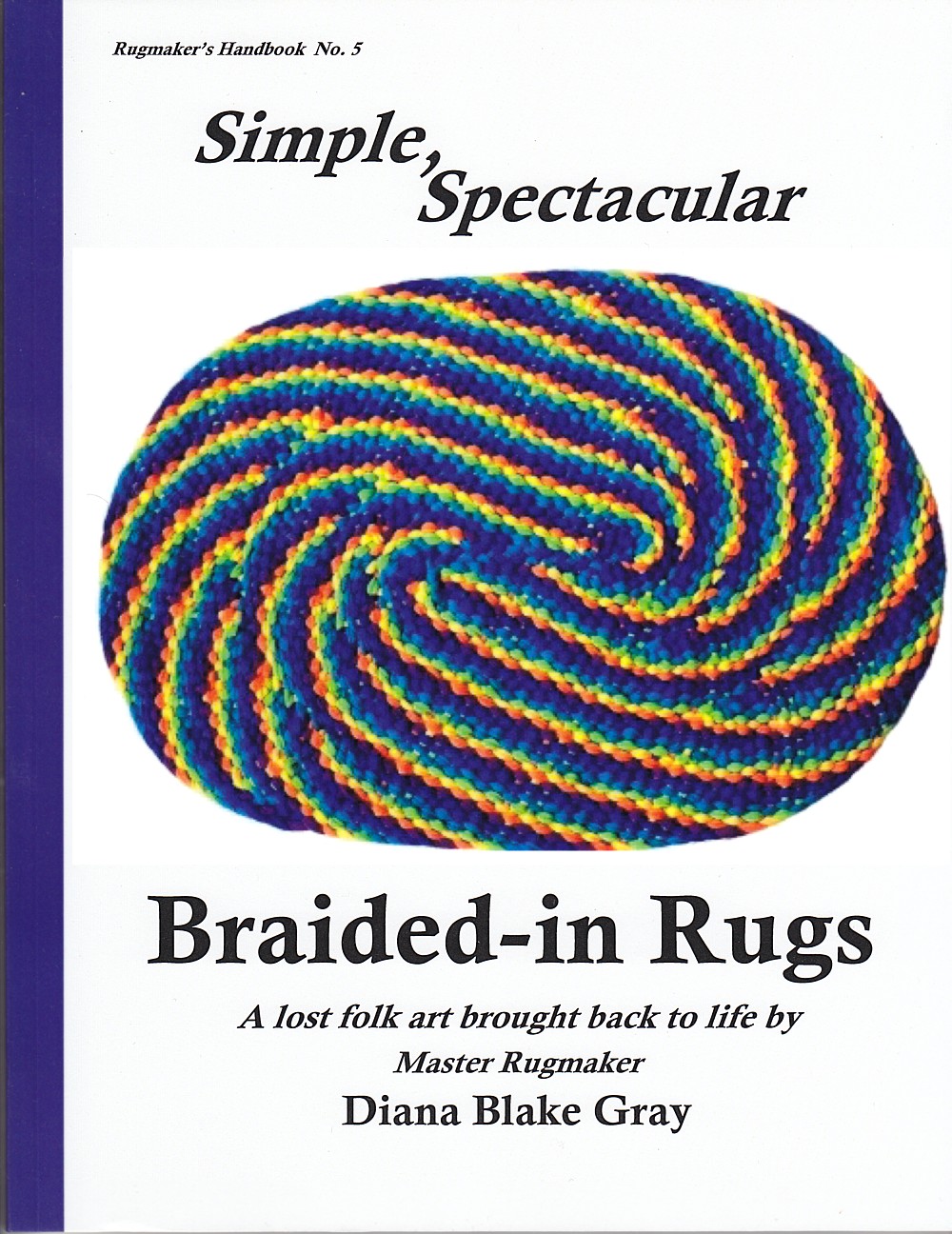 Over two years in the writing, this long-awaited book covers the lost folk art of making braided-in rugs. These rugs may look complicated but they are done with a simple process that automatically forms impressive swirling lines needles (see the upper right photo on the front cover of the book). Braided-in rugs don't require any special tools—just a pair of scissors and a handful of safety pins or yarn.
The technique of making these rugs is a lost folk art, but these modern, reliable directions allow anyone to make rugs that lay flat without any guesswork.
Unlike regular braided rugs that have to be laced together, braided-in rugs are made in a single step, making them stronger and quicker to make. The book includes braided-in rugs made with two, four, six and eight strands—which are made with a simple weave that even beginners find is easy to learn.
Reliable step-by-step directions for both right- and left-handers allow beginning rug makers to recycle clothing or fabrics into impressive rugs or baskets. With twelve rug projects in a variety of shapes, rug makers of all skill levels can explore the unlimited design potential of these showy rugs. Preview the introduction and table of contents.
Rugmaker's Handbook No. 5: Simple, Spectacular Braided-in Rugs, ISBN 1-512024-23-6, 8.5 X 11 inches, color cover with over 260 full color photos and illustrations, 120 pages...$24.95


BLACK & WHITE RUGMAKER'S HANDBOOKS
Rugmaker's Handbook No. 4: Traditional Shirred and Standing Wool Rugs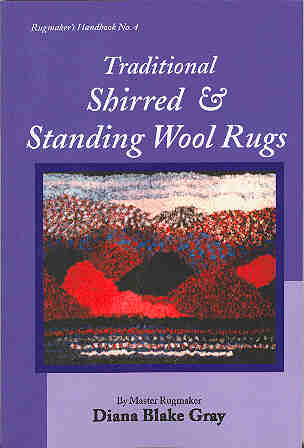 This new edition of Traditional Shirred and Standing Wool Rugs is more than doubled in size from the 1996 edition and not only includes more information about the traditional techniques but also never-before-published techniques and variations. The book's instructions include:
Standing wool rugs, including beaded rugs and milleflore beaded rugs.
Three varieties of faux shirring are included: sewn, crocheted and awl faux shiring.
Four varieties of center shirring: sewn, Snow-on-the-Mountain, two-hook and the bent hook method.
Edge shirring and mono-shirring, plus two bonus chapters on Postage Stamp rugs and Caterpillar Rugs. The Handbook section has been completely revised to include recycling clothing from t-shirts and jeans to sweaters and socks into fabulous, reversible rugs. Like all of the Handbooks, it is not a "craft" book, but a true handbook for the textile explorer. (Preview the Book)



Rugmaker's Handbook No. 4: Traditional Shirred and Standing Wool Rugs.....$18.95
ISBN 1-931-426-31-7, 6" X 9", paperback, 204 pages, Color cover, black and white interior with over 260 black and white photos and illustrations.

---
Rugmakers Handbook No 3: Crocheted & Fabric Tapestry Rugs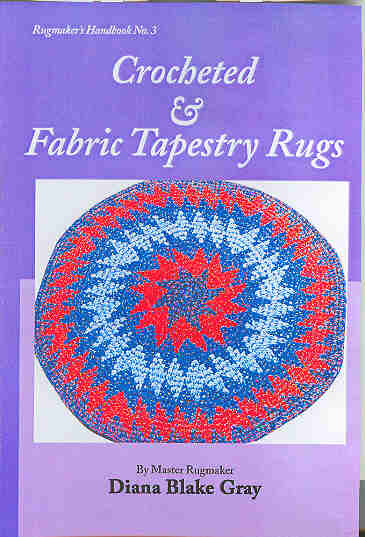 This classic book has been revised, updated and expanded. It is more than doubled in size from the 1996 edition. Even beginning crocheters can make rugs with the step-by-step instructions since only the chain stitch, single crochet stitch and slip stitch are used. The book includes charted patterns for over 40 rugs. Learn to crochet rugs in round, oval, square, rectangle, heart, corner, and heelprint shapes or follow the directions for creating your own shapes including hollow and freeform rugs. For the first time, directions are included to modify the patterns for use with alternate materials including yarns, so it isn't limited to just rag rugs. From basic crocheted rugs, the charted patterns make it easy to transition to marvelous fabric tapestry designs including geometrics, stars, diamonds, quilt patterns and more. The patterns are classified by skill level (beginner, novice, intermediate) and instructions for how to read a fabric tapestry pattern directly from a rug expands rug making horizons. For the folk artist in every rug maker, there are blank charts to use for designing your own patterns and advice about the business of rug making.
(Preview the Book)


Rugmaker's Handbook No. 3: Crocheted & Fabric Tapestry Rugs.........$18.95
ISBN 1-931426-29-5, 6" X 9", Paperback, 212 pages, color cover, B&W interior with over 230 photos and illustrations.
---
Rugmaker's Handbook No. 2: Fabulous Rag Rugs from Simple Frames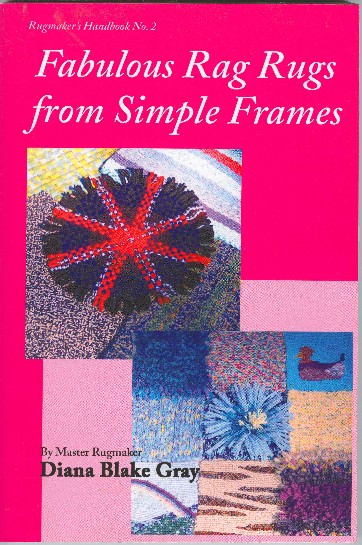 This long awaited book is the first ever to treat wooden frames as a unique and versatile tool for creating an amazing variety of rugs. Over forty techniques are included, most for the first time in print, including spider-web warps, the cheater's warp and twisted warps. Using simple household materials learn to make fabulous rugs, even freeform rugs, on wooden frames. This book opens a whole new world for the rugmaker!

Some of the techniques included are: Knotted shag rugs (including the high-speed knotted shag which cuts rug making time in half); darned rugs, Amish knot rugs; Bess Chet rugs; twined rugs; locker hooking (no canvas needed!); modified taaniko, soumak and rya knots; and various weaving methods suited for frames such as flat weaving, frame braids and wagon wheel rugs.

Learn to use different types of frames including pegged, flat, high-low, fifth stick, scroll and pinned frames. (Preview the Book)



Rugmaker's Handbook No. 2: Fabulous Rag Rugs from Simple Frames
Color Cover with black and white interior, 6" X 9", 196 pages, 296 black & white photos and illustrations.
Paperback (ISBN 1-931426-27-9)............... $16.95

---
Rugmaker's Handbook No. 1: Knitted Rag Rugs for the Craftsman--20th Anniversary Edition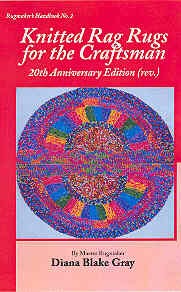 More than doubled in size from the 1996 edition, this new book covers over 30 techniques for knitting rag rugs, including the really unusual ones that have never been documented before. It has already been called an "amazing compendium" and it is. With 181 pages, 139 b&w photos and over 30 line drawings, it is the first book to completely cover the topic. Beginning knitters can start right in with recycled T-shirts to make rugs and advanced knitters will find new techniques. Even non-knitters can make spool and rake knitted rugs.
The book covers strip and block rugs, bullseye, coiled and wedge-knitted rugs, winding rugs, hexagonal blocks, heart-shaped rugs, cross-woven rugs, knitted rag baskets and much more. There are lots of interesting stitches, and unique ways to cast on and off--just for rug making. Some of the brand new information in the book includes: rake and spool knitting; "idiot cord" rugs; and four methods of knitting shaggy rugs.
Preview the book contents and a sample chapter.



Rugmaker's Handbook No. 1: "Knitted Rag Rugs for the Craftsman"
6" X 9", color cover, black and white interior, 181 pages,
Paperback (ISBN 1-931426-252)............$16.95

---
Rags to Rugs Booksby Master Rugmaker Diana Blake Gray
Each of these books covers one or two related techniques in depth with step by step photos and drawings. While some of these books include specific rug projects, they are really designed to give you the skills to make your own rugs with the technique and inspire your own creativity. These are all 8-1/2" X 5-1/4", 40 pages, black & white photos, with washable color covers

---

7-016 Bohemian Braid Rugs for the Beginner ................ out of print Replaced by Rugmakers Handbook No. 6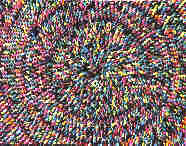 Of all of the rugs and baskets, the Bohemian braid items are the ones which are guaranteed to have people shaking their heads. The body of the Bohemian rugs and baskets is so rigid that folks cannot believe that there isn't some artificial trick to the technique. There is no trick - just this old method that has no equal! The unique Bohemian Braid creates a basketweave texture on one side and a braided texture on the other, in rugs and baskets. It is so stiff that people will think a rope is used inside for stiffening, but the Bohemian Braid is done with just a single strand of fabric. The book covers both the traditional Bohemian Braid and the 'modern' Bohemian Braid, developed by the author for use with continuous strands. The book is the first time either of the methods have appeared in print. Instructions for round, square, oval, pentagon and rectangular rugs and baskets.
---

5-016 Multi-Strand Braids for Flat-Braided Rugs ................ $7.95
Will be going out of print when new Rugmaker's Handbook is completed
When Great-grandmother sat down to start braiding a rug, she didn't just use three strands, she knew that the most beautiful braided rugs were made with wide flat braids of up to twelve strands. And the wider the braid, the quicker the rug goes together. Now you can learn these braids with simplified instructions and easy to follow braiding diagrams.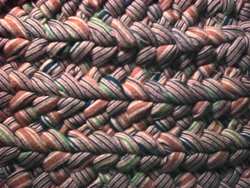 For the beginner or advanced rug braider who wants to make authentic flat-braided rugs up to 12 strands per braid. Included are standard braids of 3 to 12 strands, which are used for making thick rugs from thinner fabrics; and flat braids of 4 to 12 strands, which are used to make lovely wide braids with patterns and designs right in the braid. Instructions, diagrams and patterns for each braid plus five assembly techniques (including false braid joints and the colonial joint for super strong rugs).
---
OUT OF PRINT: Rugmaker's Bulletins by Diana Blake Gray
The "Rugmaker's Bulletins" contain the directions for a single traditional rug method. These booklets let you choose just the rug that interests you! These are booklet size (8-1/2" X 5-1/2") and have 8 to 10 pages.
All of the Rugmaker's Bulletins are now out of print but they are AVAILABLE AS PDF FILES FOR INSTANT DOWNLOAD on the etsy version of the Rugmakers Homestead--see the link at the bottom of the page. The bulletins are less expensive than the printed version and there is no shipping charge. Good news for our international customers.

Bulletin #1: FLAT WRAP RUGS & BASKETS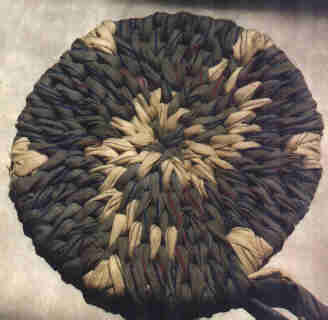 The Flat Wrap is one of the oldest methods of rug construction, developing in ancient times on nearly every continent. It can be used for baskets and rugs which are very heavy and durable, and yet machine washable. Instructions include working with multiple strands to develop patterns and make beautiful baskets from fabric strips.

---
Bulletin #2: AMISH KNOT RUGS


The "Amish Knot" has also been known as the 'Navajo Knot'. This is a very simple needle stitched knot for round or oval rugs (or you can use an old toothbrush handle modified for rugmaking, or a toothbrush tool or a large eye needle). The Amish Knot can be worked with multiple strands of fabric strip to create patterns on the rug surface. Instructions include how to prepare fabric strip, making rugs and also baskets with the technique.

---
Bulletin #3: BROOMSTICK RUGS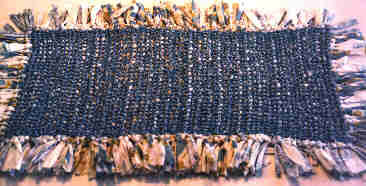 Yes, these really are made with a broomstick as the main tool. The rugs appear woven on one side and knotted on the other. The technique is traditionally done with fabric strip for both the 'warp' and the 'fill' strands, but can be made with yarns, or fabric and yarn in combination. Instructions include how to prepare fabric strips and make your own simple 'broomstick' tool from a dowel. Once you understand the basics of this technique, you can make rugs of any size.

---
Bulletin #4: CHAIN BRAID RUGS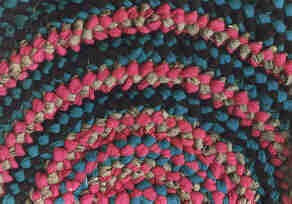 If you've ever wanted to make a braided rug, but the thought of having to stop and sew on more strip constantly has discouraged you, try the 2-strand chain braid. It is made with long continuous strips of fabric (wool or cotton), so you can make any size rug. This rug method appears to be the grandmother of several other rug types including toothbrush and swedish and bohemian braids. And it is simple to learn. The chain braid makes a softer, spongier rug than traditional flat braids, and because it is done with only two continuous strands, they are quicker to make than other types of braided rugs. This bulletin covers the 2-strand detached type of chain braid only. (See other bulletins for other types of chain braids.)
---
Bulletin #6: ANCHORED LOOP RUGS (American Locker Hooking with Rags)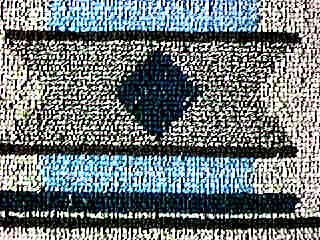 This bulletin covers the American Anchored Loop technique for making these wonderful traditional rugs on burlap or rug canvas. Step by step instructions and photos from preparing fabric strip for rugmaking to creating and finishing your own Anchored Loop Rug.

Use either the traditional rug hook and lacing needle for these rugs or a locker hook with rug canvas.

---
Bulletin #7: BODKIN RUGS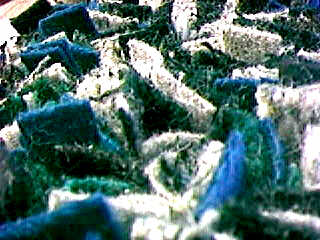 Learn this "impossible" technique for making superthick, supersoft wool rugs very easily. With a shaggy, reversible texture, there is just no other rug like it. Bodkin rugs can be made on rug canvas or burlap using a bodkin. With an adult pre-cutting the pieces of fabric, these rugs can be an ideal project for busy fingers of the youngsters.

---
Bulletin #8: WRAPPED FALSE BRAIDS FOR RAG RUGS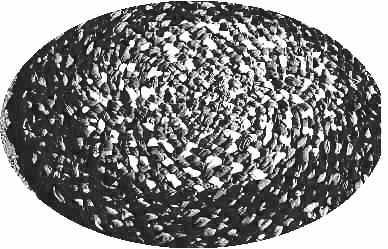 This bulletin is includes directions for making six different false braids and their major variations. Included is the "candy cane" false braid and the amazing "squared" false braid pattern, which will let you make a rug that is a different color on each side. Each braid is illustrated with line drawings, in step by step fashion, so you can quickly master the pattern. False braids are much quicker than standard braided rugs since they all use long, continuous strips of fabric--so you don't have to stop and sew on more strip-- and several are easy enough for youngsters. Rugs are constructed by lacing these braids into round or oval shapes, in the same fashion as regular braided rugs.

---
Bulletin #9: INTRODUCTION TO TAMBOUR BRAIDS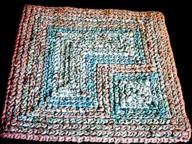 This is the bulletin to get you started with these fantastic, and easy to make rugs. This is an introduction to tambour braids done on rug canvas and covers the basic two-strand tambour braid (which is the easiest tambour technique and the best place for beginners to start). The tambour edging shown in this bulletin is also very compatible for edging anchored loop (locker hooking) rugs.
---
Bulletin #10: KNOTTED SHAG RUGS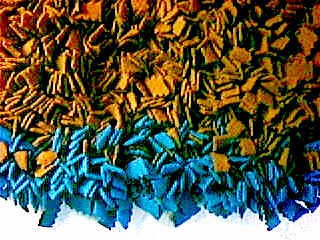 With some stout string, and tiny scraps of fabric, you can make wonderfully shaggy knotted shag rugs. This bulletin covers two very different ways to make knotted shag rugs. The "two string loom" method is so simple it is ideal for children's rug making projects--and even the "loom" is so simple they can make it themselves. The "frame" method isn't that much harder, and will let the textile artist have a great new medium for design. (Note that the frame method is covered in Rugmakers Handbook 2: Fabulous Rag Rugs from Simple Frames, but the two-string method is only available in this bulletin.)

---
Rugmakers Bulletin #11: PJONGING & SINGLE STRAND CHAIN BRAIDS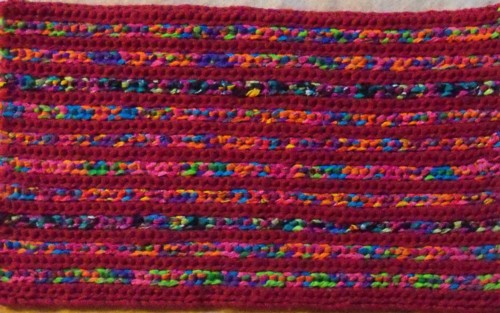 This bulletin includes both the attached (Pjonging) and detached, single strand chain braids. Both are very simple constructions. For light cotton fabrics a rug hook or crochet hook is used. With heavier fabrics, such as wool, these can be made using your fingers. The detached braids are made separately and laced together to form the rug. The attached braid makes the rug in a single step.
---
Rugmakers Bulletin #12: HOOK "BRAIDED" RUGS:
The two-strand attached chain braid for rag rugs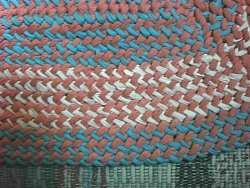 These rugs really are interesting because the "braid" is a chain braid made with a hook (rug hook, crochet hook, button hook or what have you), for making the interlocking loops of the chain braid. Made in a single step, each round of "braiding" is made through the previous rounds so the rug goes together in a single step. These unique rugs appear braided on one side only.
---
Rugmakers Bulletin #13: "KITCHEN TABLE" RUGS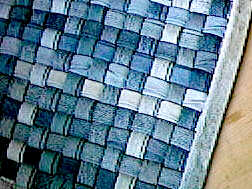 These are the absolute simplest of woven rag rugs to make, since not even a frame is needed-- just a flat surface to work on which is why they were called "kitchen table" rugs. Almost any fabric can be used from light cottons to heavy denim or wool and they go together very quickly.These make a wonderful family project. The bulletin covers each step from fabric preparation, to weaving and finishing your rug.

---
Rugmakers Bulletin #14: STRING CROCHET RUGS.........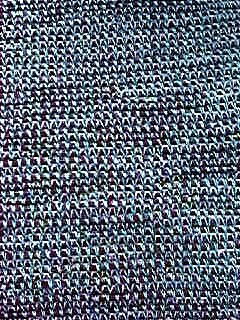 String Crochet (or "Baling Twine") rugs are a delightfully simple way to get a rug that looks like it was woven on a loom, but you make them with a crochet hook instead. The bulletin covers the techniques for making long runners and for making oval rugs in various fabrics for either light or heavy rugs. See the Rugmakers Exchange for interesting stories about this variety of rugs.

---
Rugmakers Bulletin #15:
PRIMITIVE RUG HOOKING, AN INTRODUCTION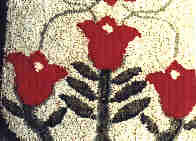 Traditional rug hooking done with wider strips is known as 'primitive' rug hooking. The method is ideal for a first time rug hooker, since primitive rugs are quicker to make than 'fine' hooking. The bulletin covers the basics of hooking technique on a burlap base and designing and finishing a 'primitive' hooked rug.
On the etsy version of the Rugmakers Homestead: All of our current rug books plus Pre-folded cotton fabric strip, hot pad kits and PDF files of out of print books for instant download in a mobile-friendly environment. Just click on the Rugmakers Homestead link below or any of the photos shown.