Nothing says home quite so well as a rag rug on the floor, especially if you made it yourself. That's the reason that rag rugs have been made, used and loved for generations. Unlike so many crafts these days, rag rugs don't gather dust on a shelf--they gather it on the floor everyday, just like they've always done, and then wash up, and cheerily go back to work as the favorite spot for kids, dogs and even the grownups. Best of all, traditional rag rugs aren't hard to make and you can use just about any type of fabric from recycled clothing, and yard sale finds to the mistakes in your sewing stash.

The rugs featured here are the genuine article. These rugs were originally created out of necessity, with limited supplies and only the simplest tools. Unless your family has been rolling in money for generations, you can bet that you have a (great- or great-great-) grandmother or grandfather that made rag rugs of some variety. But beyond the basic techniques, traditional rugs can be modern pieces of design and craftsmanship which are an asset to any home. And they are a wonderful way to connect with the past and continue a family tradition.

The Rugmaker's Homestead is a goldmine of information about traditional rag rugs--and the only place you can find any information on many of the "lost" methods of making rugs. Most people are surprised to learn that there are hundreds of ways of turning rags into rugs. Here, at Rafter-four Designs, we are working toward preserving the traditional rug making techniques which have fallen by the wayside. We believe that the best way to preserve a folk art is to teach folks how to do it with modern, reliable directions. (Read more about our outlook.)
If you're intrigued by the idea of traditional rag rugs, the Rugmaker's Homestead has articles, letters, historical references and free patterns and directions to get you started. Our most popular feature is the Rag Rugs Tour with 21 different stops covering all of the major types of traditional rugs. There is so much information available here that we have created a "Welcome" page for first time visitors to help you find your way around the Homestead.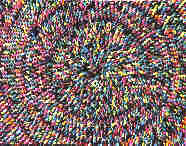 See our
Table of Contents
page for an directory of all of the information on the Rugmaker's Homestead. It is organized like the table of contents of a book or magazine so you can readily find just the information that you want. Of course, if you're looking for a particular tool, book, etc., you can browse our complete
Catalog
online. And, as we always have been, we are available to
answer your questions
about traditional rug making.
---
Be sure to take our exclusive Rag Rugs Tour where you'll find all sorts of unusual traditional rugs like the Beaded Rug, a type of standing wool rug (left) and a tambour braid (right).

---



Rugmaker's Handbooks:
Our master rugmaker, Diana Blake Gray created this series of handbooks to cover all of the types and variations of traditional rug making. These books are not "craft books" with a few individual projects--instead they are true "handbooks" with a wealth of information to enable the rugmaker to create their own folk art from lots of different materials. See
our online catalog
for a full description or
preview the books:

Rugmaker's Handbook No. 4: Traditional Shirred and Standing Wool Rugs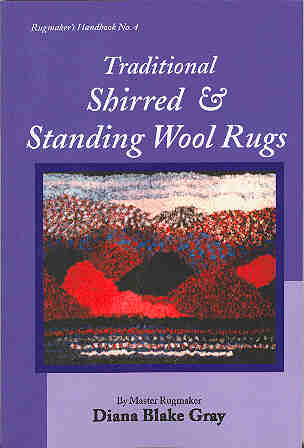 The third edition of Traditional Shirred and Standing Wool Rugs is more than doubled in size from the 1996 edition and not only includes more information about the traditional techniques but also never-before-published techniques and variations--plus how to make shirred rugs from t-shirts, sweaters and other nontraditional materials. Like all of the Handbooks, it is not a "craft" book, but a true handbook for the textile explorer.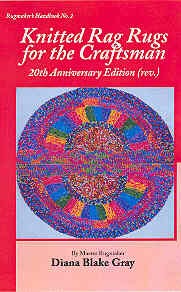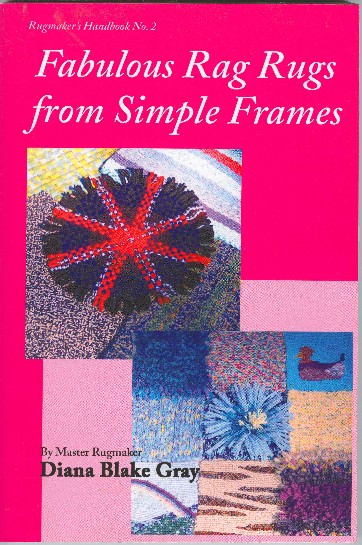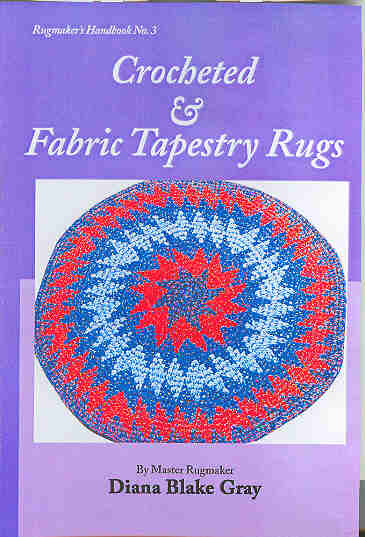 Rugm
aker's Handbook No. 1: Knitted Rag Rugs for the Craftsman
,
Rugmaker's Handbook No. 2: Fabulous Rag Rugs from Simple Frames

Rugmaker's Handbook No.3: Crocheted & Fabric Tapestry Rugs
---
The name of our mail order business is
"Rafter-four Designs"
and we have been providing books and supplies to traditional rugmakers since 1984. If you'd like a free pricelist and order form you can e-mail us (send your regular mail address, North America only) at:
info@rugmakershomestead.com
Or write to us at Rafter-four Designs, P O Box 40, Cocolalla, ID 83813.
http://www.rugmakershomestead.com