Rugmaker's Handbook No. 6: The Lost Bohemian & Swedish Braids, Rugs, Baskets & Variations is now available--AND in full color with tons of new information for the textile explorer.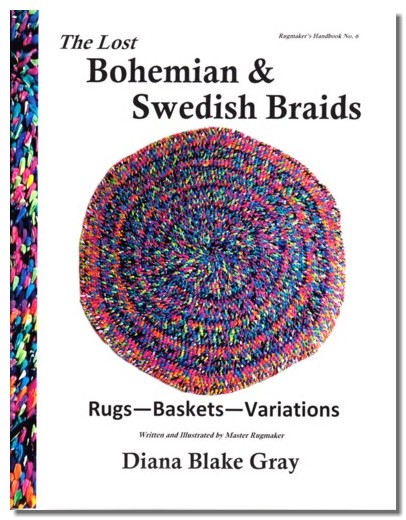 It's been 30 years since I wrote about Bohemian braids for the first time and I've never did manage to get the directions for the Swedish braid in print until now. I know it doesn't seem fair to some of you that I'd had photos of the Swedish braid on the website for 20 years and still hadn't written the instructions. So to all of you--Thanks for your patience!
So what exactly are these rugs? Bohemian and Swedish braids represent a whole new family of techniques for the textile explorer. Made with a hook, but not crocheted—looped and laced, but not nalbinding. They are ideal for rugs, baskets and more. (You can learn more about them on the Rag Rugs Tour.)
These rugs were documented for the first time in my small book "Bohemian Braid Rugs for the Beginner" in 1986, which included only the most basic instructions for the Bohemian braids and only for right-handed rug makers. With this book, the braids come to life with simple step-by-step color photographs for the beginning rug maker with both left- and right-handed directions.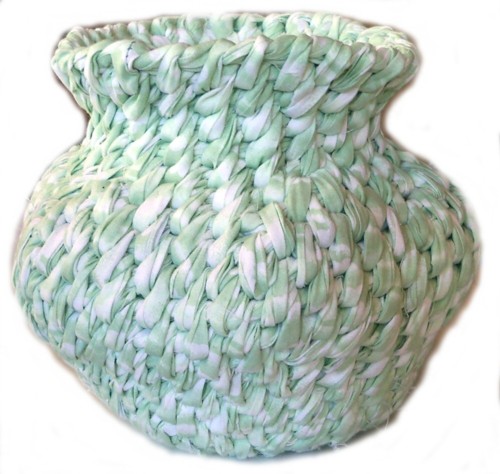 The Ancient Stitch, Traditional Bohemian Braid and Modern Bohemian Braid are included along with the never before published Swedish Braid and Fool-the-Eye braid. These stitches create unique textures with very different appearances on the front and back. The rugs and baskets are so sturdy people think there is an artificial stiffener, but it is just the stitches themselves whether used with fabric strip, yarns or cording. The Bohemian braids are so ideal for baskets that there is an entire chapter covering making baskets and hats.
And for the first time, directions for how to create patterns and designs in the rugs let the rug maker create really eye-catching projects. No special tools are required—you can make your own hook from a clothes hanger.
The book is in the final stages of production and should be available shortly. In the meantime, you can preview the contents and introduction.The new book is over six times larger than the 1986 version. It is 8.5" X 11", with 120 pages and in full color. It has a list price of $24.95 and is available in our catalog.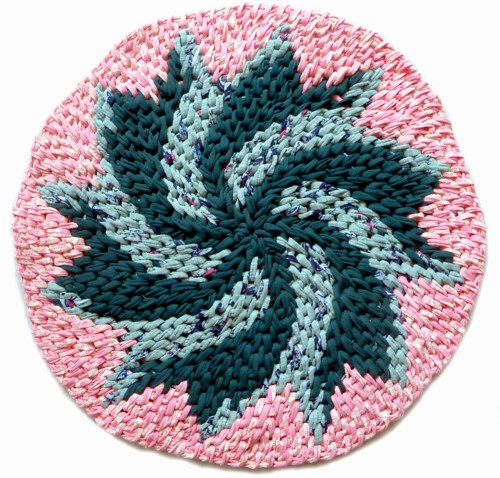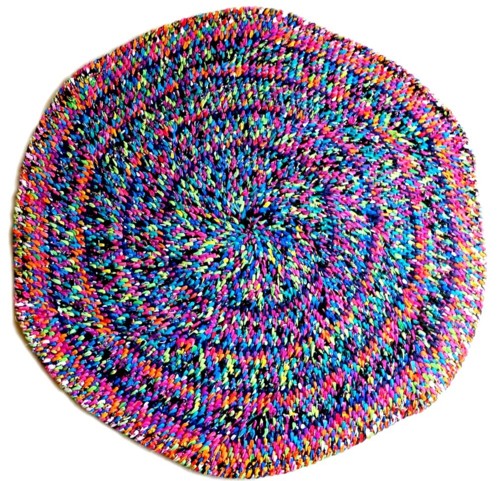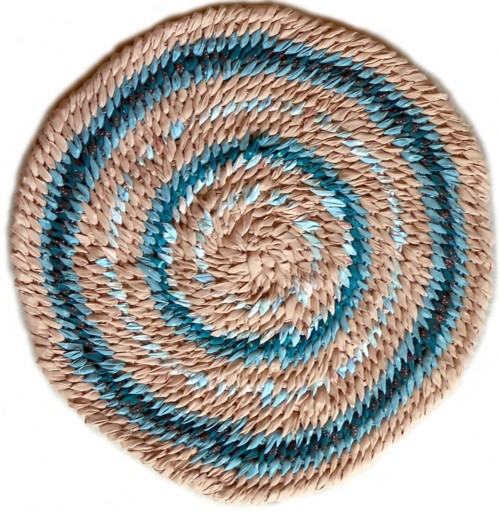 FORTHCOMING BOOKS
In the catalog you'll notice that the smaller publications are flagged as going out of print soon. That is because we are in the process of publishing these rug making methods in book form with more detailed instructions and color photography. The bulletins were conceived as a temporary vehicle to make basic directions available. It turned out to be a 20-year temporary.
The new Rugmaker's Handbooks that will cover the bulletins (and other) rugs and will also be more economical than purchasing the separate bulletins. We'll keep the bulletins in print until the new books are available for those who just can't wait, but we wanted to let everyone know what is happening.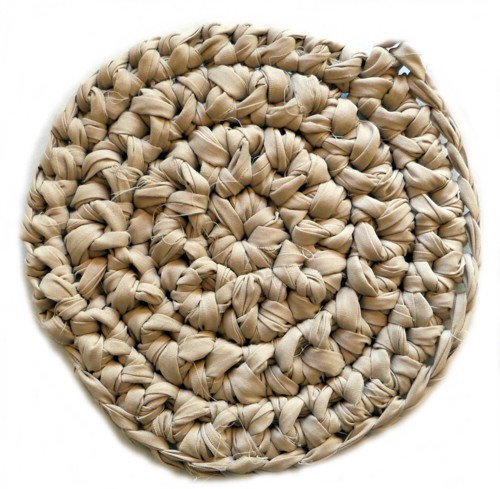 And, just as an aside, there are more undocumented rug making methods that we have not put on the website. We learned from our experience with the Swedish braid that it is easier on us if we don't mention rugs that don't have instructions yet. Not that we mind being asked "When is the book coming out?" it's just that it can sometimes take years to get to a particular method. An example of this is the Fool-the-Eye braid (shown at left) that is included in the new handbook on Bohemian & Swedish braids. It's been on our list for 15 years or more, but it hasn't ever appeared in the Rag Rugs Tour.
Since the above announcement, we have heard from many directions that the small booklets are ideal and to please keep them so, as they go out of print, we will also make a PDF file of the bulletin available on our etsy site RugmakersHomestead.etsy.com