Rugmaker's Handbook No. 2: Fabulous Rag Rugs from Simple Frames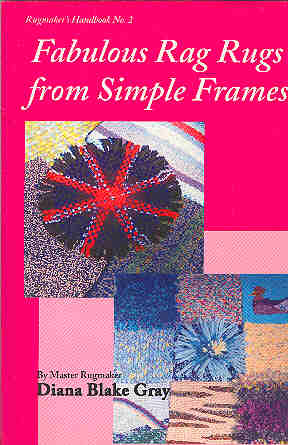 Preview Table of Contents Preview Introductory Text

This long awaited book is the first ever to treat wooden frames as a unique and versatile tool for creating an amazing variety of rugs. Over forty techniques are included, most for the first time in print, including spider-web warps, the cheater's warp and twisted warps. Using simple household materials learn to make fabulous rugs, even freeform rugs, on wooden frames. This book opens a whole new world for the rugmaker!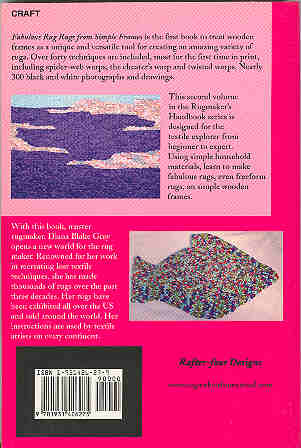 Some of the techniques included are: Knotted shag rugs (including the high-speed knotted shag which cuts rug making time in half); darned rugs, Amish knot rugs; Bess Chet rugs; twined rugs; locker hooking (no canvas needed!); modified taaniko, soumak and rya knots; and various weaving methods suited for frames such as flat weaving, frame braids and wagon wheel rugs. Learn to use different types of frames including pegged, flat, high-low, fifth stick, scroll and pinned frames.

Rugmaker's Handbook No. 2: Fabulous Rag Rugs from Simple Frames
6" X 9", 196 pages, color cover, 296 black & white photos and illustrations.
Paperback (ISBN 1-931426-27-9)............... $16.95
Hardback (ISBN 1-931426-28-7) ...... $24.95 (out of print, limited to current stocks)
On the etsy version of the Rugmakers Homestead: All of our current rug books plus Pre-folded cotton fabric strip, hot pad kits and PDF files of out of print books for instant download in a mobile-friendly environment. Just click on the Rugmakers Homestead link below or any of the photos shown.