Rugmaker's Handbook No. 1: Knitted Rag Rugs for the Craftsman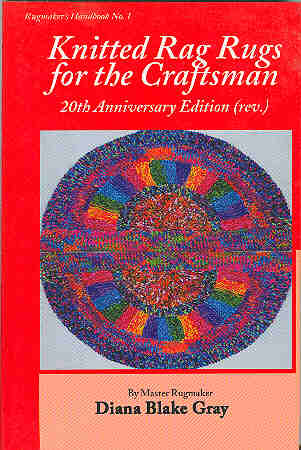 Preview Contents
Preview Introduction
More than doubled in size from the 1996 edition, this new book covers over 30 techniques for knitting rag rugs, including the really unusual ones that have never been documented before. It has already been called an "amazing compendium" and it is. With 181 pages, 139 b&w photos and over 30 line drawings, it is the first book to completely cover the topic. Beginning knitters can start right in with recycled T-shirts to make rugs and advanced knitters will find new techniques. Even non-knitters can make spool and rake knitted rugs.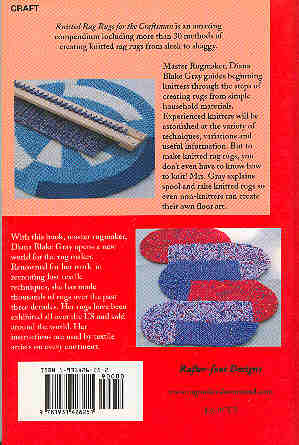 The book covers strip and block rugs, bullseye, coiled and wedge-knitted rugs, winding rugs, hexagonal blocks, heart-shaped rugs, cross-woven rugs, knitted rag baskets and much more. There are lots of interesting stitches, and unique ways to cast on and off--just for rug making. Some of the brand new information in the book includes: rake and spool knitting; "idiot cord" rugs; and four methods of knitting shaggy rugs.

Rugmaker's Handbook No. 1:
"Knitted Rag Rugs for the Craftsman" 20th anniversary edition rev.
6" X 9", color cover, 181 pages, color cover, black & white interior, 169 photos and illustrations
,
Paperback (ISBN 1-931426-252)............$16.95
Hardback (ISBN 1-931426-26-0) .... $24.95 (our of print, limited to current stocks)

---
For inspiration for designing your own knitted rugs, see the rugs by Judy Boisson. We do not sell instructions to duplicate her rugs, but all of the techniques she uses are in Handbook 1. For example, her rugs with "tumbling blocks" (like the quilt pattern) are made using the hexagonal pattern in chapter 10.
On the etsy version of the Rugmakers Homestead: All of our current rug books plus Pre-folded cotton fabric strip, hot pad kits and PDF files of out of print books for instant download in a mobile-friendly environment. Just click on the Rugmakers Homestead link below or any of the photos shown.